Water Features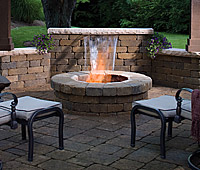 Landscaping is not just all about the land…it can be about water features too. Oftentimes, people will think about plants, stones, and statues when talking about landscaping. But a very interesting addition to any landscape, and in fact to any decoration, is water features.
Surprising Water Features Benefits
Water features are ornamental displays that use water. These can be as simple as a small water fountain or as sophisticated as a man-made artificial waterfall. Ponds, streams, cascades, and pools are water features too. A water feature can instantly transform any place into a lovely, relaxing, and beautiful haven. Besides beauty and relaxation, did you know that water features offer more surprising benefits?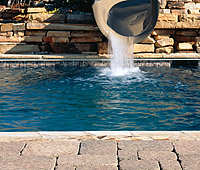 Improved Health with Water Features
Fascinating flowing water usually attracts people. But behind that mystery is actually science-proven therapeutic benefits of flowing water. The mere sound of flowing water affects the state of mind and improves health. Listen to the moving water and you'll most likely feel inspired, healed, and calm. Flowing water and water falling over steps and rocks create peaceful sounds that also block out noise. Due to this effect, many temples and gardens include water features with moving water.
But water features are not just about sounds. They are beautiful visual arts with powerful healing effects for the spirit. Enhanced motivation, better socialization, reduced sense of anxiety, isolation, and increased self-esteem are just some of the noted benefits of water features.
On top of the sound and art therapy, water features also help in purifying the air because they release negative ions that cleanse away electromagnetic energies, fumes, allergens, and dust. The flowing water also improves air humidity for a more refreshed and cooler environment.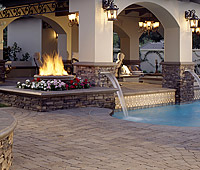 Better Family Bonding and Healthier Environment
Water features at the backyard are like magnets that attract every member of the family together. The family can sit nearby a pond or a pool, have some splash, and just enjoy the day. Smaller water features are great entertainment for the guest, too, especially those with floating plants and swimming fishes.
Higher Home Value with Water Feature Installation
Increase your home's value, whether as a preparation for reselling or for a big loan application, by adding water features in the landscape.
Almost 20% of all house buyers consider a good landscape as a very important factor when deciding whether to buy a house or not, according to National Association of Realtors. It's also not a secret that properties near water or have water features are mostly more expensive.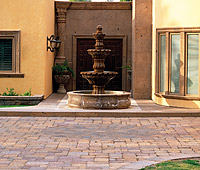 Design and Installation of Water Features in Florida
All these great benefits are enough to make anyone so excited to have a water feature right away. But water features must be planned well. Get help from Ultimate Pavers, the skilled and experienced professionals who have helped a lot of clients design, install, and maintain water features in Tampa, Florida. Whether you need a pond, artificial waterfalls, streams or just simple water fountains, our company can install these water features for you at an affordable cost.
Can't wait to have an impressive water feature? Contact us today.