About Us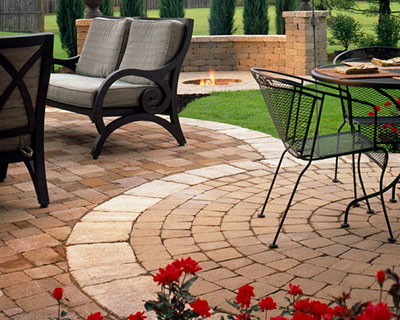 Ultimate Pavers provides professional design, installation, and maintenance of all phases of lighting, pavers, walls, ponds, waterfalls, fountains, and outdoor fireplaces and kitchens.
Ultimate Pavers is at the forefront of paving stone installation. We enjoy what we do, are constantly striving for excellence and warranty our work from the ground up.
We would be glad to provide you with a list of projects that you could drive by to determine if a paving stone driveway, walkway or front porch gets you excited.
A perfect home is oftentimes the goal of an American homeowner. This is the reason why many improvements are being undertaken by most homeowners to make their home a better place to live in and an outdoor where they can relax and enjoy. As a contractor, Ultimate Pavers knows what every homeowner wants. They need quality service and a contractor that can provide all their needs.
Other Valuable Services from Ultimate Pavers
Aside from the pavers, walls, patios, water features, lighting and other aesthetic and safety components in your landscape, you might be interested in our other services like pergolas, and more.
To have perfect indoor and outdoor living areas, you need to make sure that all of your stuff will complement each other. As pavers improve the outdoor setting by transforming your lawn, patio, driveway or pool area into something different, you do not need to focus on them alone. If you want everything to be perfect, make sure that other important additions like the pool and pergolas are perfectly installed.
Our goal is to provide clients from various parts of Florida with all their paving needs. As a one-stop-shop for all your needs, it will be easier for you to implement any project.
Other services that Ultimate Pavers can offer you are the following:
Pergolas. Another important attribute to your landscape is the Pergola. The main function of a pergola is to provide shade in walkways, passageways and sitting areas. It also serves as a relaxing area outside of your home. Aside from aesthetics, Pergolas are great for giving support for climbing plants and flowers. If you need a pergola, Ultimate Pavers can install one for you. We offer various designs of pergolas or arbors that will surely meet your needs.
Why Choose Ultimate Pavers?
Many would ask why choose Ultimate Pavers? We have well-trained professionals that could bring you the best designs, whether contemporary or classic. You can get various services by just hiring one company. You have nothing to worry about going hither and yon to look for different services because we have them under one roof.
Ultimate Pavers is a company you can rely on when it comes to installing pools and pergolas or arbors. Our long list of satisfied clients from the different parts of Florida can attest to the quality of our services.