Services
We provide excellent services in and around Egypt Lake-Leto, Temple Terrace, and Lake Magdalene Mango. Our company also caters to a large number of customers in and around Brandon, Citrus Park, and Bloomingdale; we have successfully completed projects in and around Oldsmar, as well as Lutz Safety Harbor and the surrounding areas. The different services we provide include: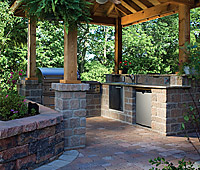 Paver Installation, Cleaning & Sealing
Pavers are extremely resilient features that can be used in most open spaces of your landscape. But they need to be installed well. We provide excellent brick, stone and concrete paver installation solutions as well as cleaning and sealing services that add to the longevity of the pavers. You can hire us for one-time cleans or opt for contractual services wherein our technicians come in a couple of times per year (or as required) to clean these features. Read More About Paver Installation, Cleaning & Sealing >>
Pool Decks
We are the experts that can design and install pool decks of your choice. You can choose to get pool decks made of composite, wood, tiles, concrete, pavers and stone. Our technicians have experience with building decks for above-ground as well as in-ground pools. These features will be custom-designed to your specifications and built using materials of your choice. We can also design and build multi-level pool decks that add a distinctive look and dimension to the landscape. Read More About Pool Decks >>
Retaining Walls
We have an impressive range of segmental block retaining walls. These features can be built in any part of your landscape and will be custom designed for you. These specially engineered walls provide your landscape the support it needs when any excavation work is done on your property. The retaining walls we build will be made using the best materials and expert masons handle the job; which ensures the dugout portions of the landscape get the right kind of support. Read More About Retaining Walls >>
Patios & Driveways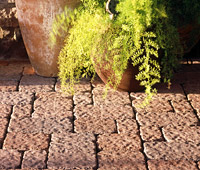 We can custom design patios based on your specific requirements. In most instances we use pavers for these installations. You can choose from pavers made of natural stone, brick concrete. We provide unique designs and can use pavers of different styles, textures, sizes and shapes to provide you the kind of patio or driveway you want., Our designers will also make sure that the design and styling of the patio complement the styling of your home and pool installation. Read More About Patios & Driveways >>
Water Features
Many of our customers want water feature installations in their gardens and yards. We can design and install water features such as pools, ponds, waterfalls, fountains and streams. Since these features will be custom-designed for you, they will blend in perfectly with the other aspects of your landscape. We make sure that the design and styling complement the overall design theme of your landscaping. Rock waterfalls, stone fountains and streams lined with river rock can create a very alluring look in your landscaping. Read More About Water Features >>
Pergolas
This is a basic structure made of battens and beams that form a grid above a patio, deck or any other space in your garden. The pergola has 4 columns that hold up this grid and provide a certain amount of shade to the space underneath. You can choose from an aluminum, timber or vinyl pergola based on the look you want to create on your property. Read More About Pergolas >>
If you want custom services, please call Ultimate Pavers at 813-965-5000 for any information you need or complete this free consultation and estimate form and one of our experts will call you to discuss your project requirements. You can also send us your request via this Contact Us form.