Pergolas in Westchase, FL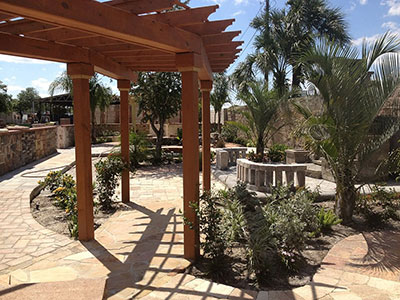 When you have outdoor spaces on your property, you want to ensure that they are used optimally and it is why you install various outdoor features such as decks, patios and outdoor kitchens. Most people prefer some type of shade structure in their yard as this enables them to use the area comfortably even during the daytime. The one way to add some shade to your patio or deck is to get a pergola installed on it.

Pergola design and installation is a specialized job and is best handled by experts like us at Ultimate Pavers for it. We cater to commercial and residential customers in Westchase, FL, and surrounding regions, offering premium pergola design and installation services.


Pergola Design and Installation
A pergola is an amazingly simple yet elegant structure that is made of four columns that hold up a grid work of battens at the top. While this feature doesn't provide complete shade from the sun and rain, you can trail creeping plants over it. If you desire more shade on your patio or deck, you can get a shade sail or retractable roof installed on the pergola as well. This provides sufficient shelter from the elements and you will be able to use your patio space more optimally.

This feature could me made of a variety of materials such as timber, vinyl, aluminum or even wrought iron. Since we custom design pergolas based on your specific needs, you have the option to choose the size and styling of the feature as well. In addition to installing pergolas on decks and patios (where they are built adjacent to the exterior walls of your home), you also have the option to get a pergola installed in any other area of your yard or garden as well as over walkways and pathways. This lends a very quaint and classic look to your landscape.


Aspects Considered in Pergola Construction
When our pergola designers are planning this structure, they will take various aspects into consideration, including:


Location
Material/s to be used
Design and styling
Your preferences
Budget
Custom Pergola Design
We work very closely with you to understand what your specific ideas and preferences are and then design pergolas that will complement the overall look and ambience of your home and landscaping. In most cases, homeowners get a pergola installed as part of the patio installation project.

However, we can also build these as a standalone feature in an existing landscape at extremely competitive pergola costs. We use the best exterior-grade materials in the work and deploy skilled and experience pergola installers for the job; this ensures you get a feature that looks stunning, performs well, and lasts for several years with minimal maintenance.

If you want a custom pergola designed and built, simply call Ultimate Pavers on 813-965-5000. You can also send us details of your pergola requirement via this Contact Us form and we will revert shortly.