Driveways in Tampa, FL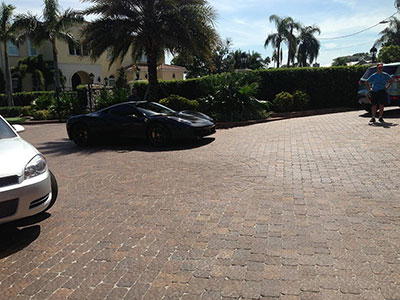 Regardless of how much of time, money, and energy you put into creating the perfect outdoor spaces on your property, one of the very first features visitors see is your driveway. This installation also sees the maximum amount of wear and tear over time. Not only is it exposed to the elements but must wear foot and vehicular traffic as well.

This makes it important to pay close attention to the type of materials and design used in your driveway installation. In addition to the aesthetics, you also need to focus on aspects such as maintenance and durability. One of the best ways to make sure that all these aspects are considered in your driveway installation project is to hire the services of experts like the ones at Ultimate Pavers.

We are a leading company in the hardscaping space. Over the years, our team has created outdoor havens on properties in Tampa, FL, and the surrounding regions, with great success!


Custom Driveway Installations
Our team understands that every client will have specific needs when it comes to their driveway installations. Over the years we have provided custom driveway design and installation services to our very satisfied clients. If you are looking for excellent decking solutions, you are at the right place.

We excel in creating driveway designs and plans that meet the needs of our clients. Our designers go the extra mile to find the perfect balance between aesthetics and longevity. Since there are many driveway paving materials on the market today, we provide you with all the information you need about these products. You can choose from materials such as:


Asphalt
Concrete
Pavers
Natural stone slabs

Each of these materials has very specific characteristics and reacts in different ways when exposed to climatic changes. When you are choosing a driveway material, you need to make sure that it will be durable and complement the rest of the features in your landscaping.


Custom Driveway Plans
When we are planning your driveway, we consider several different factors including:


The available space
Type of material to be used
Design and styling
Maintenance
Your budget and preferences
Driveway Design Ideas
Since we have been operating in this industry for several years, we have deep knowledge about the different materials and what their pros and cons are. Our experts will have detailed discussions with you to ensure that your ideas and vision are kept in view while designing the driveway feature.

Regardless of whether you want a brick paver driveway or one made of stamped concrete, you are assured of the best solutions at the best pricing. We can install driveways as part of your new landscaping project. However, if you need to install the driveway in an existing landscape, we can do that as well.

Ultimate Pavers are here to cater to your driveway and paver installation needs. Our passion for creating unique and durable outdoor features is rivaled only by our commitment to quality and reliability. For any more information on our services or driveway installation cost, feel free to contact us at 813-965-5000. You can also connect with us via this Online Form.