Pool Decks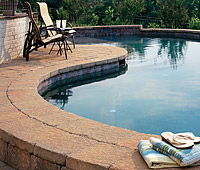 A pool in the backyard is certainly the center of attention and a source of envy as well in the neighborhood. To better alleviate the beauty of your pool and the entire backyard area, you can always opt to add pool decks. Incorporating pool decks is not just about placing a trim around the pool but it also provides some useful functions.
Expand your Living Space with Pool Decks
Building a pool deck is an excellent way to expand your living space and make your swimming pool a lot more appealing. Pool decks can be built around the above-ground pool just as with the in-ground pool. They are usually part of the pool installation process but they can be added afterward in-ground pools.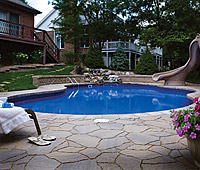 What are the Tough Materials for Pool Decks?
When it comes to the materials to use in pool decks, you can choose from wood, composite, tiles, stone and concrete. Different textures and designs are also available for both in-ground pool decking and above ground pools.
Stone and concrete are still the best options for pool decking. If you want a natural look in your pool, stone decking is a perfect choice but it is a little bit expensive. Concrete pavers, on the other hand, are cheaper and are more flexible during installation.
The use of concrete pavers in pool decking is more practical because it can be installed based on your desired design and color combination. Stone and concrete pavers are durable and require less maintenance as compared to other materials used in pool decks.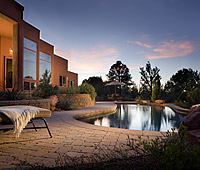 Pool Decking must be handled by Experts
Since installing pool decks is not for everyone, Ultimate Pavers is here to provide professional help to homeowners who want to enhance their pool area. There are technical aspects in pool decking that homeowners don't want to get their hands on. Our pool of trained and skilled staff will determine the right dimension, list of materials, and other add-ons. You can also incorporate outdoor kitchens, grilling areas and extra space for gatherings.
Ultimate Pavers also have an incredible number of designs but before choosing the design perfect for your pool area, there are some considerations you need to ponder on like the appropriate design, materials and budget. Our staff can explain to you the advantages of each factor and from there, you can now choose the right one for your home.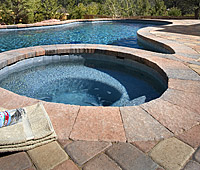 Our staff will also make sure that the pool decking will complement the color of your home. It will add a relaxing atmosphere to your pool area and a beautifully designed and installed pool deck will definitely increase the value of your home. So, if you are really eager to redefine your pool area, then accenting your swimming pool with pool decks is the perfect step. This will definitely allow you to create the perfect leisure place for you and your family.
Call us for your Pool Decks Projects
Knowing the different options available at Ultimate Pavers only means that your backyard is in good hands. Whatever material you desire to use, rest assured that Ultimate Pavers can always design and install quality pool decks. Call us now.