Pergolas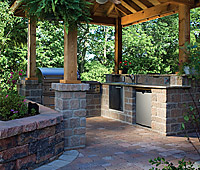 Most landscaped spaces are open to the air and this can restrict the time of the day you can use them. However, you can improve the functionality of your yard by getting a few shade structures installed at strategic locations in the available space. The one way to have a certain amount of shade without completely covering your yard is to get a pergola installed.
We at Ultimate Pavers provide excellent pergola design and installation services in and around Egypt Lake-Leto, Temple Terrace, and Lake Magdalene Mango. Our company also caters to a large number of customers in and around Brandon, Citrus Park, and Bloomingdale; we have successfully completed projects in and around Oldsmar, as well as Lutz Safety Harbor and the surrounding areas. If you need a pergola, we can install one for you and offer various designs of pergolas or arbors that will surely meet your needs.
What is a Pergola?
This outdoor feature can be installed in any area of your yard. It can either be a standalone structure or built over a deck or patio on your property. The main function of a pergola is to provide shade in walkways, passageways and sitting areas. It also serves as a relaxing area outside of your home. Aside from aesthetics, Pergolas are great for giving support for climbing plants and flowers.
It's a very simplistic yet elegant structure made of beams and battens that form a kind of grid above your patio, deck or any area of your garden. The grid is fitted on 4 columns and is generally made of timber. But today, many homeowners are opting for vinyl or aluminum pergolas as well. All these materials are resilient and weather-resistant so you can rest assured that your pergola will be strong and last for a long time without any trouble.
While this feature doesn't provide complete shade, it's a great way to create a comfortable and quaint semi-shaded space in the outdoor areas of your property. If you want some more shade under your pergola, you can get a retractable roof or shade sails installed on it. We work closely with you to provide you the kind of solutions you need.
Pergola Design - Aspects We Consider
When we are designing pergolas for our clients, there are various aspects we take into account, including:
The location of the pergola
Style and design
Material to be used – timber, vinyl, aluminum etc.
Your personal ideas, preferences and budget
Custom Pergola Installations
We are very particular about providing customized solutions to our customers and it's why we work very closely with you to understand what your specific requirements are. Only the best materials and workmanship are used in the work and the installation will be completed efficiently and professionally. While there is never any compromise on quality, you will find that our pergola cost is very competitive and this provides you value for money.
If you want custom services, please call Ultimate Pavers at 813-965-5000 for any information you need or complete this free consultation and estimate form and one of our experts will call you to discuss your project requirements. You can also send us your request via this Contact Us form.