Water Features in Seminole Heights, FL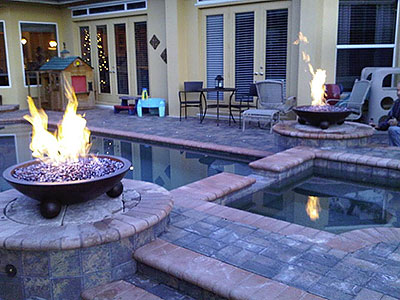 A well-designed water feature will always be a visual centerpiece of your landscape. It can create a great place for spending time with family and friends. Adding a water fountain can help create a soothing atmosphere and bring a sense of calmness to your yard. Besides, they can mask unwanted noise and attract creatures such as birds, bees, and butterflies. If you want to add a water feature to your landscape in Seminole Heights, FL, we at Ultimate Pavers are your trusted providers.


Hire Professional Design & Installation Experts
With over three decades of experience in designing and creating stunning landscapes, we can transform your outdoors with beautiful a waterfall, pond, fountain, or another structure. We have designed and installed water features for both residential and commercial landscapes. Whatever your landscape needs, we have the experience, expertise, and resources required to create a custom feature or upgrade an existing one.


Benefits of Water Features
Professionally designed and installed water features can add a lot of value to your yard and property. They are relaxing, eye-catching, practical, and much more:


Sound of water falling down natural stones create a more harmonious effect
Adding water features brings nature in your yard
You will be giving back to mother nature by creating a more natural ecosystem

Whatever the size of your yard, we can add a custom water feature that adapts to its size and existing features. Nothing should hold you back from transforming your outdoor living area. Whether you want to entertain guests or spend time relaxing with a nice glass of wine while enjoying the soothing sounds of nature. We can create just the environment you will need.


Creative Water Feature Design
All our water feature solutions are designed to be environment friendly. We keep both safety and low maintenance in mind at each stage of the project. Well-designed and low-power lighting solutions can further enhance the elegance of your water feature. Using the latest design methods and durable components, we can ensure that your features will work at their optimal efficiency over the long run.


Types of Water Feature Services
We provide a wide range of water feature services, including the following:


Design and build water fountains
Design and build waterfalls
Design and build pond
Maintenance services
Water flow evaluation
Adding and removing floating plants
Water quality analysis
Building a Water Garden Lifestyle
Imagine walking right out of the back door into a beautiful water garden. The relaxing sound of water trickling down a waterfall, butterflies flying between flowers, fish swimming in the water, birds chirping, and dragonflies flying around the pond can create a mesmerizing environment.

There is nothing like melting away all the stress after a long day and relaxing in a water garden. We at Ultimate Pavers provide landscape consulting, designing, and installation services throughout Seminole Heights, FL, and the surrounding areas.

For more information about our hardscape services, feel free to call us today at 813-965-5000. You may also send us a message using this Online Form and we will get back to you at the earliest.